What do we do?
We design, install, run and arrange security systems
We advise how to equip the facilities with security systems
We maintain, repair and upgrade security systems
We create the concepts of installing integrated security systems at facilities
8 reasons to work with us
1
We take facilities of any complexity and with any amount of work
We are ready to take into operation facilities, the scope of upcoming work on which, perhaps, is minimal (not requiring a lot of time, money, and other resources) and large (long terms of design and organization, large volume of installation and commissioning, extensive list of equipment mounted).
2
15 years — the work experience of our specialists
15 years of experience of employees performing design work, estimated work, other calculations, as well as specialists coordinating all the necessary work and processes, starting with the survey of the facility, up to its commissioning.
3
Only verified suppliers
Long-term relationships with the largest and most reliable suppliers allow us to give guarantees on the quality of equipment installed at the facilities, as well as on the fact that such cooperation allows us to reduce the purchase price of equipment, components and installation materials and, accordingly, reduce the overall estimated cost of the projects.
4
We implement special requirements
Employees of the company have experience in implementing projects with various special requirements for the functionality of mounted systems, such as: ensuring the safety of confidential information (technical protection); ensuring the safety of cash, valuables and other valuables; remote access to video surveillance.
5
We cooperate with the customer after the commissioning of the facility
The relationship with the customer does not end with the commissioning of the facility, the company is ready to cooperate with any customer regarding maintenance, repair and modernization of the installed systems.
6
Our warranty
We guarantee: – quality of the work performed – reliability of the installed systems – clean and tidy clothes – safety of the customer's property.
7
Compliance with Legislation
Any design and installation works are performed in accordance with the requirements of the Legislation and state standards, codes of practice and technical regulations.
8
Only reliable and certified equipment
The equipment supplied to the facilities is produced in 18 countries (Russia, England, Hungary, Germany, Israel, Italy, Canada, People's Republic of China, Republic of China (Taipei), Lithuania, Belarus, Republic of Korea, USA, Taiwan, Turkey, Ukraine, Sweden, Japan), 61 cities in 143 enterprises (among manufacturers there are such world brands as Samsung, D-Link, Seagate, Inter-M).
Work experience
Over 15 years, our employees have equipped:
78+
Commercial facilities
Certification
The company has all the necessary permits and licenses for the work performed.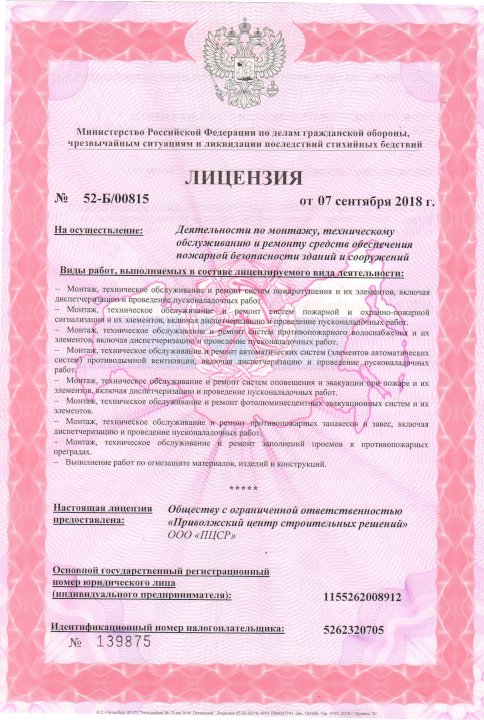 LLC Privolzhsky Center for Building Solutions has a license to carry out activities for the installation, maintenance and repair of fire safety equipment for buildings and structures.
Main Directorate of EMERCOM of Russia in Nizhny Novgorod Region
Order of the EMERCOM of Russia in Nizhny Novgorod Region No. 637 dated 09/07/2018
License No. 52-B/00815
checkInstallation, maintenance and repair of fire extinguishing systems and their components, including dispatching and commissioning
checkInstallation, maintenance and repair of fire and fire alarm systems and their components, including dispatching and commissioning
checkInstallation, maintenance and repair of fire water supply systems and their components, including dispatching and commissioning
checkInstallation, maintenance and repair of automatic systems (elements of automatic systems) of smoke-proof ventilation, including dispatching and commissioning
checkInstallation, maintenance and repair of warning and evacuation systems in case of fire and their components, including dispatching and commissioning
checkInstallation, maintenance and repair of photoluminescent evacuation systems and their components
checkInstallation, maintenance and repair of fire curtains and curtains, including dispatching and commissioning
checkInstallation, maintenance and repair of fillings of openings in fire barriers
checkFire protection of materials, products and structures